Portfolio
One-of-a-kind pieces that we've built over the years.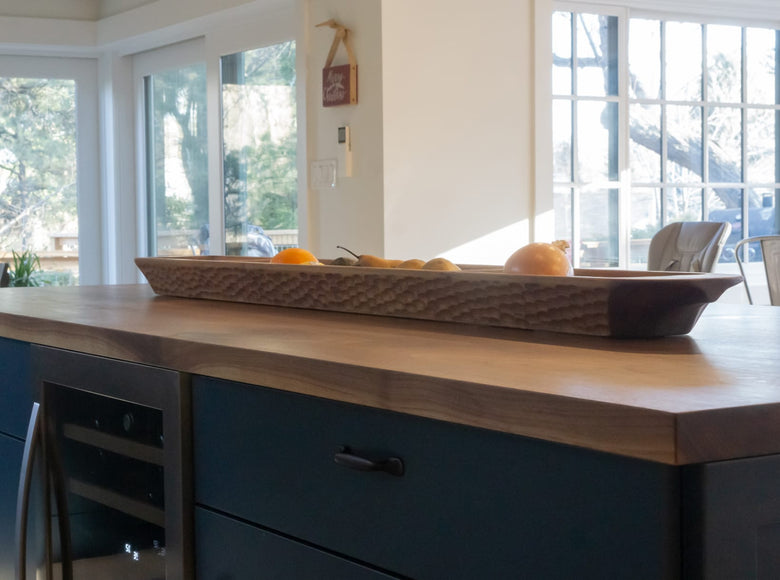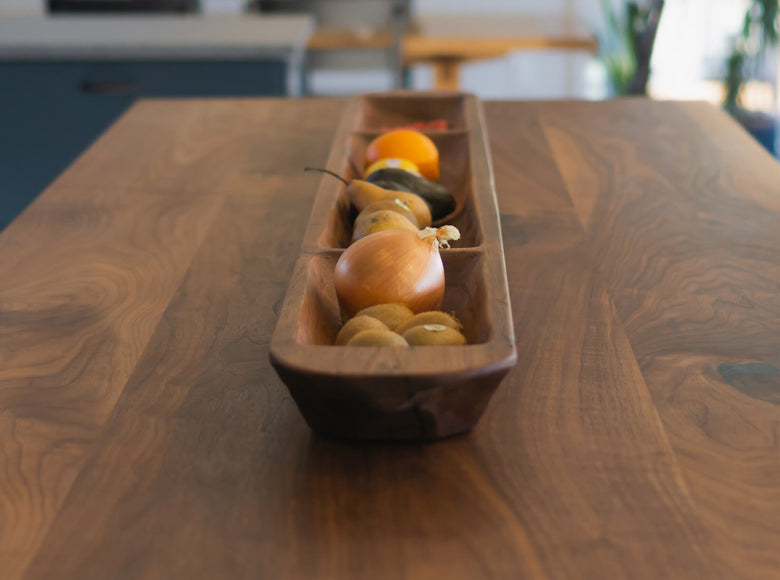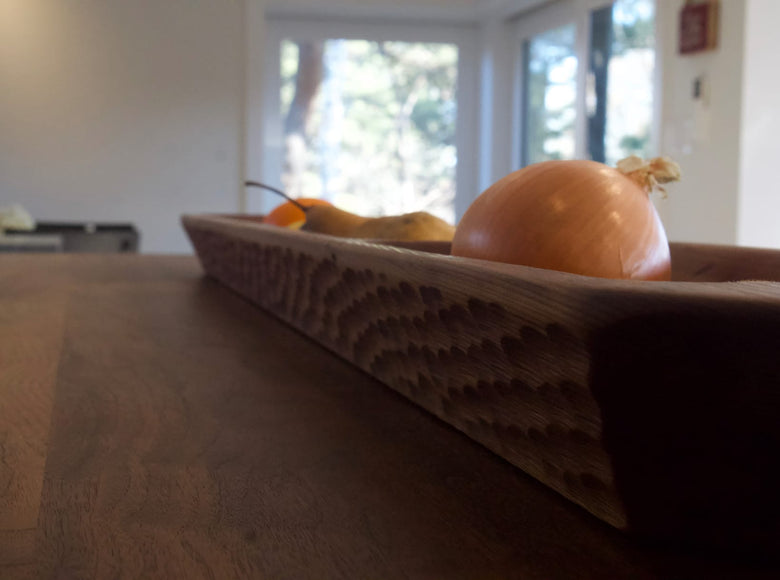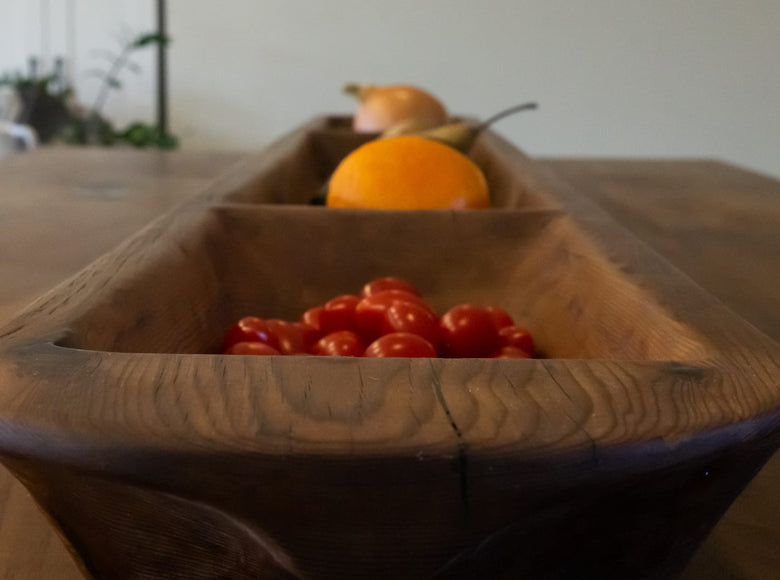 Fruit Canoe
Inspired by a traditional hand-carved fruit canoe that I spotted during our honeymoon in South Africa, the wood for my version began its life as a beam that had been part of a church cross and was rescued on its way to the landfill.  Wanting to experiment with textures, it took almost all of my hand tools to get the right shape and smoothness – many hours of grinding, rasping, carving and sanding.
The Les Custom Coffee Table
This design is a twist on The Les No. 3, with the bottom shelf removed to allow for working and eating from a seated position on the floor. Ideal for the client's small living space, the piece serves as both coffee table and dining table. Because the table has no bottom shelf, a rabbeted dovetail joint (otherwise known as a "strong-a$s joint) was added to reinforce the structure.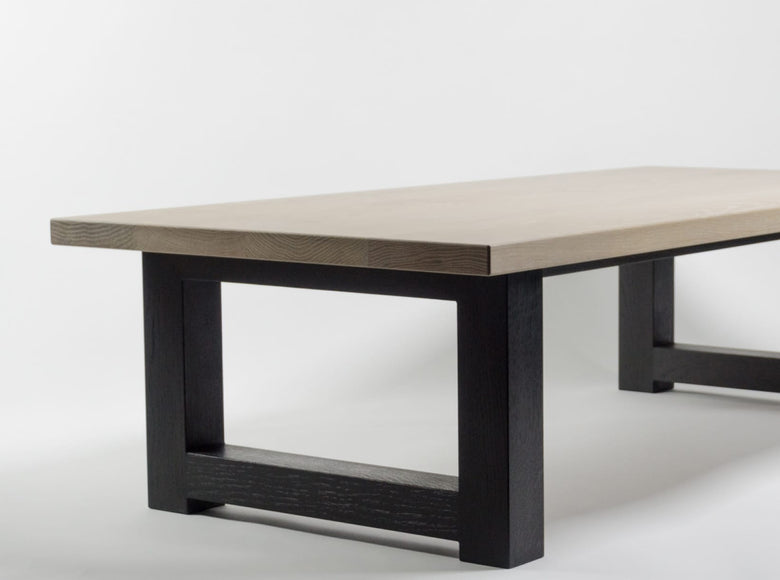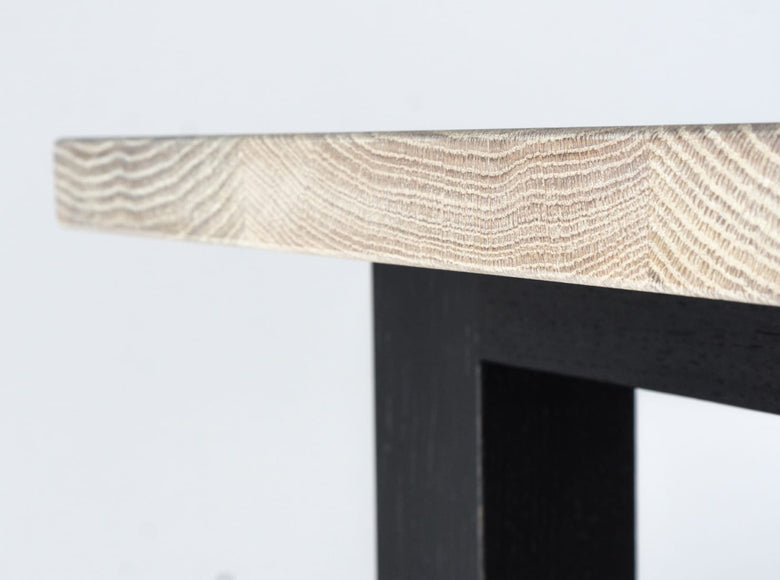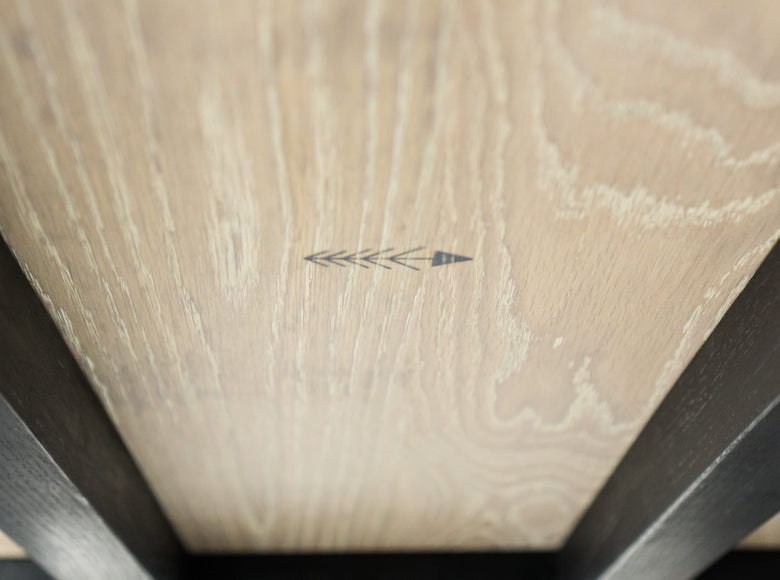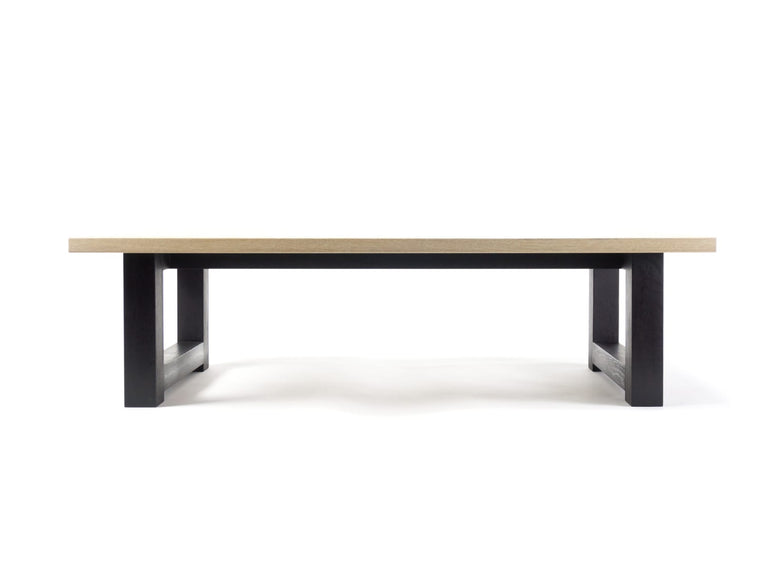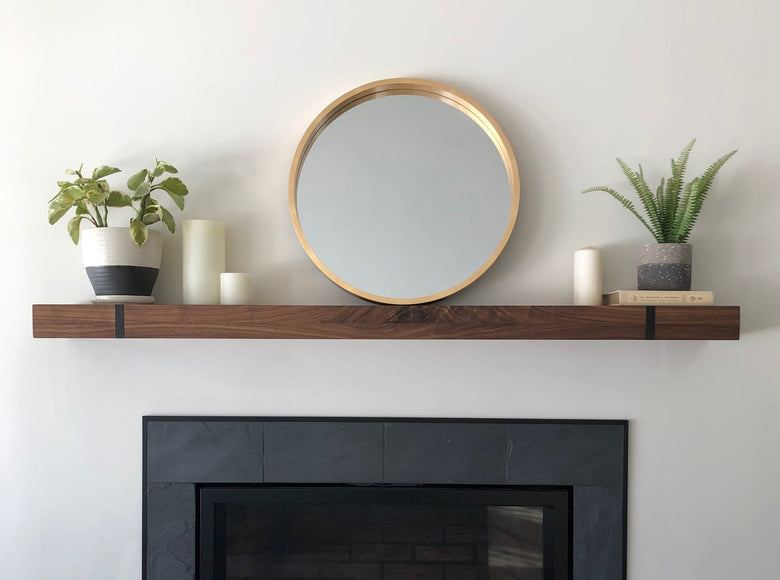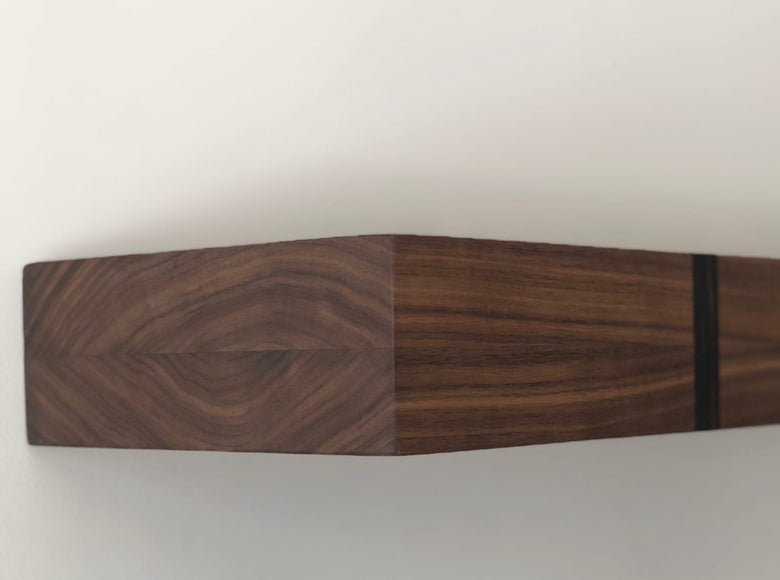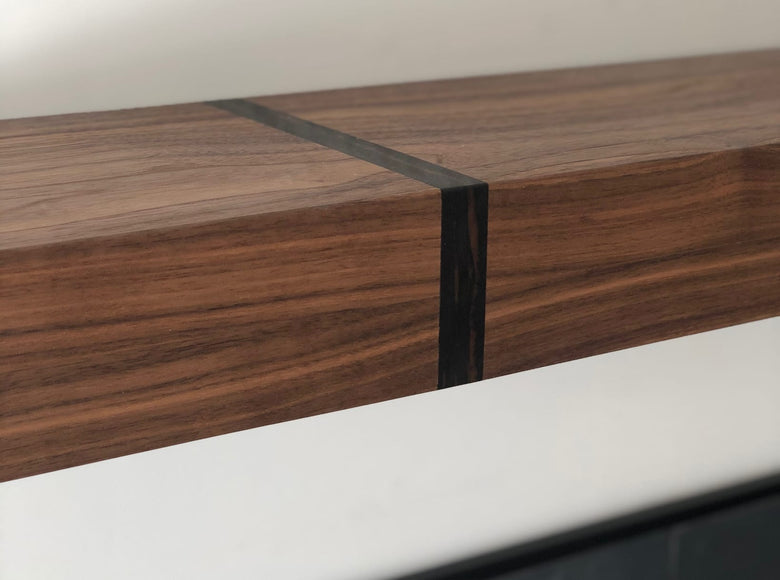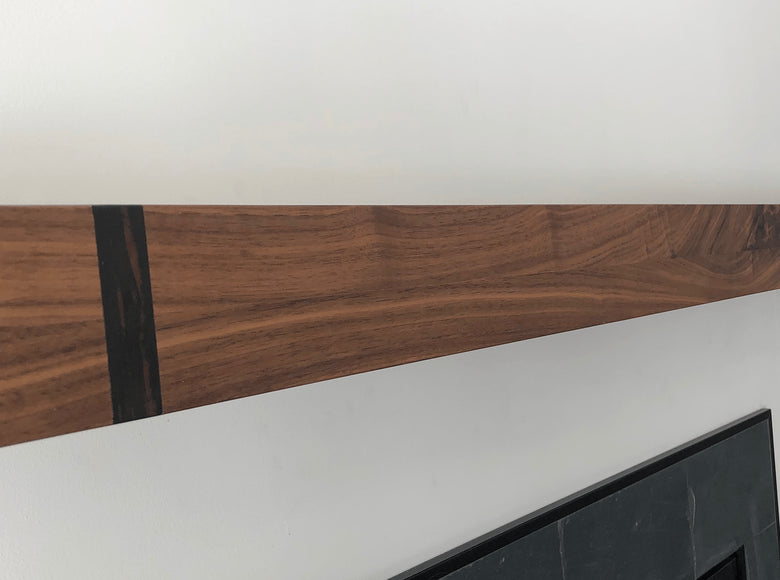 Fireplace Mantel
The home which this mantel was commissioned for is best described as "minimalist meets mid-century." Crafted from Walnut with inlaid ebony accents, the mantel is designed to enhance the minimalist beauty of the home's fireplace. Strategically placed grain and subtle "flame-patterned" ebony inlay gives this one-of-a-kind mantel the distinct note of character it deserves.
Crib
This crib was built for my first-born child, my son Jackson. A mid-century inspired piece, the crib is made from Walnut with Ebony accents, with personal visual notes like circular dowels, square pegs, and extensive walnut grain.

Many family hands played a part in the construction of the crib. My dad helped with the panels, my (very pregnant) wife milled a bit of the wood, and some of the tools I used originally belonged to my grandfather.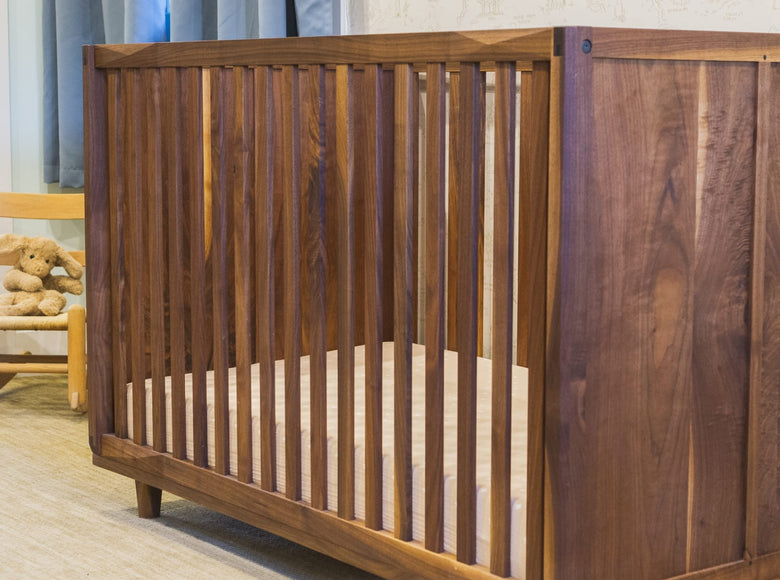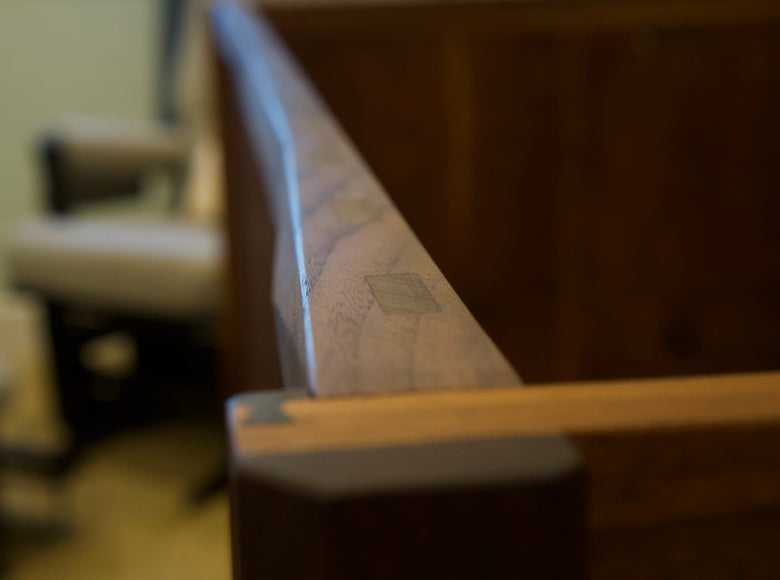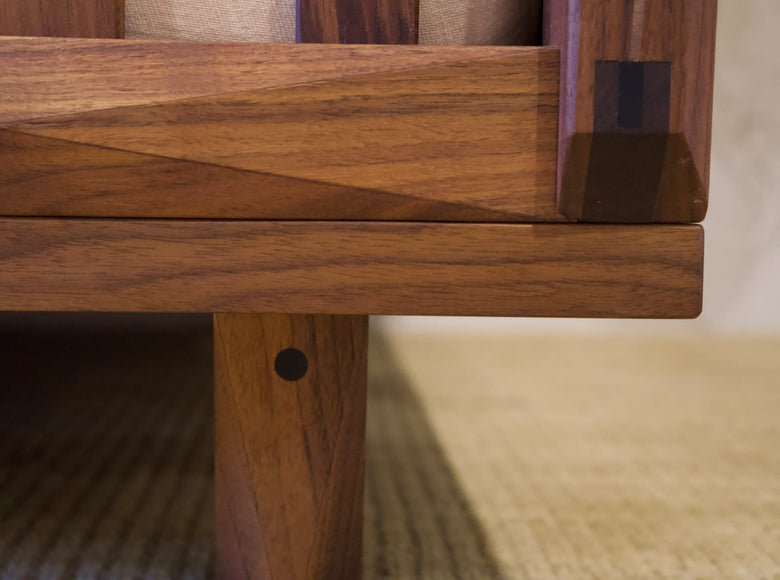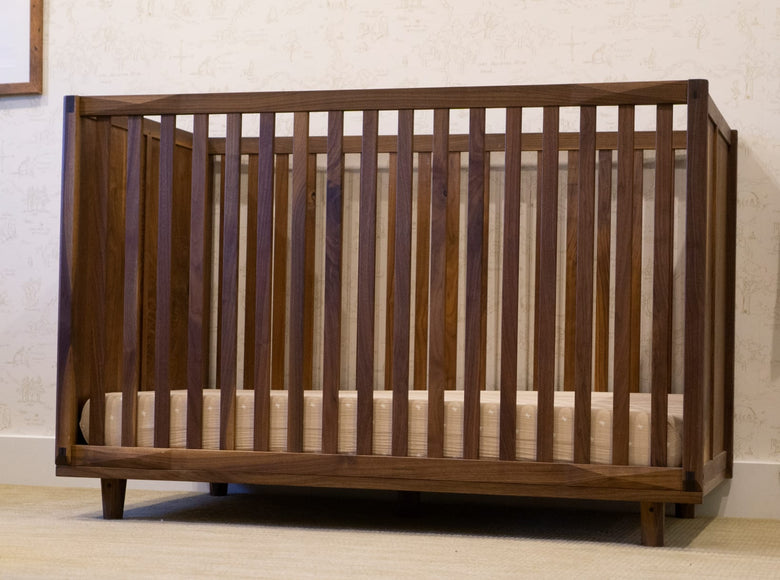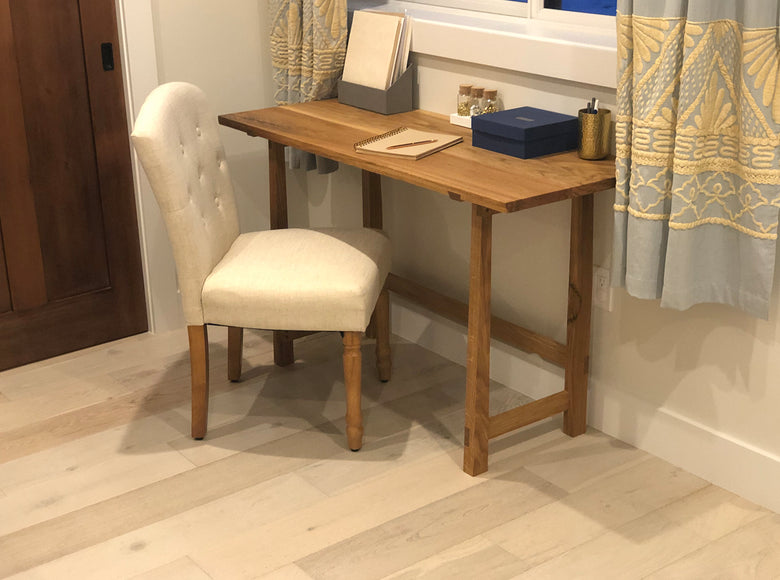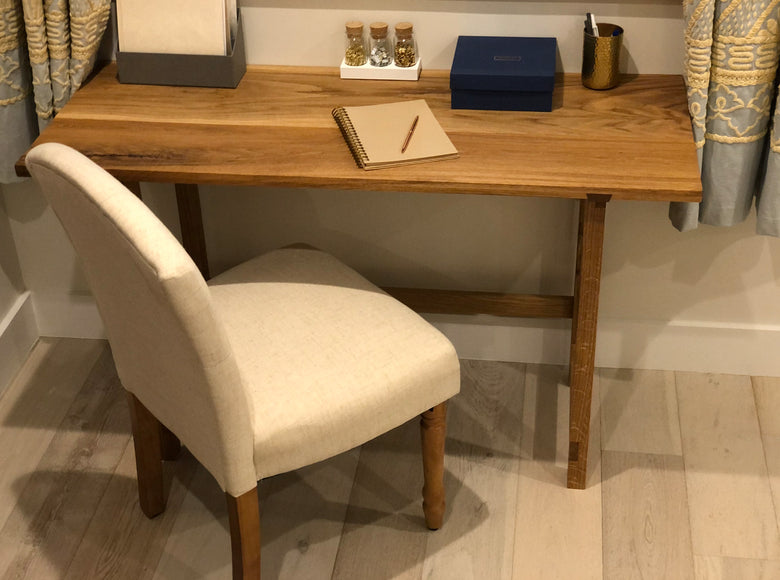 White Oak Desk
Not a single piece of hardware was used in the construction of this desk—we only used traditional wood joinery techniques. The room had extreme size restrictions—it needed to fit under a window and be shallow enough to maintain access to the closet door. The final design includes slender proportions and small accent details.
Wedding Arch
Wilde Basin Lodge needed a wedding arch to use at wedding ceremonies. Standing nearly seven feet tall, the seven-sided mahogany arch was a test of strength because of its slender parts. The feet were our our nod to the groom's tuxedo shoes.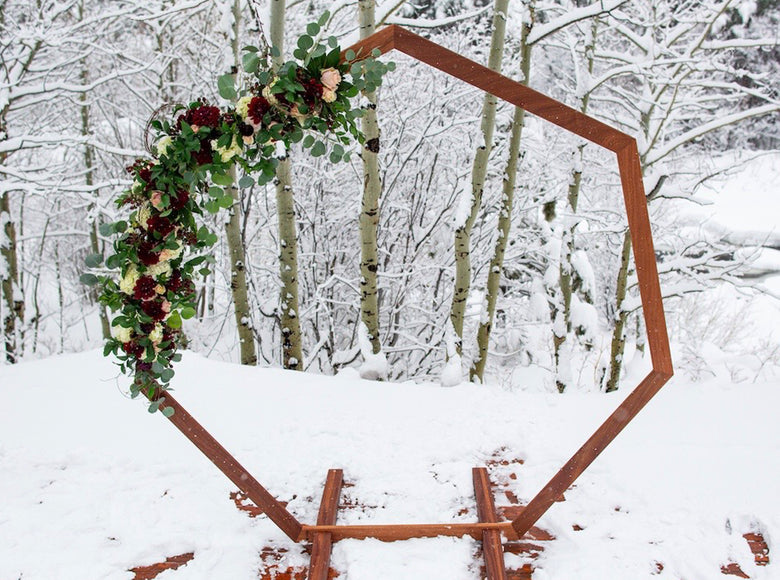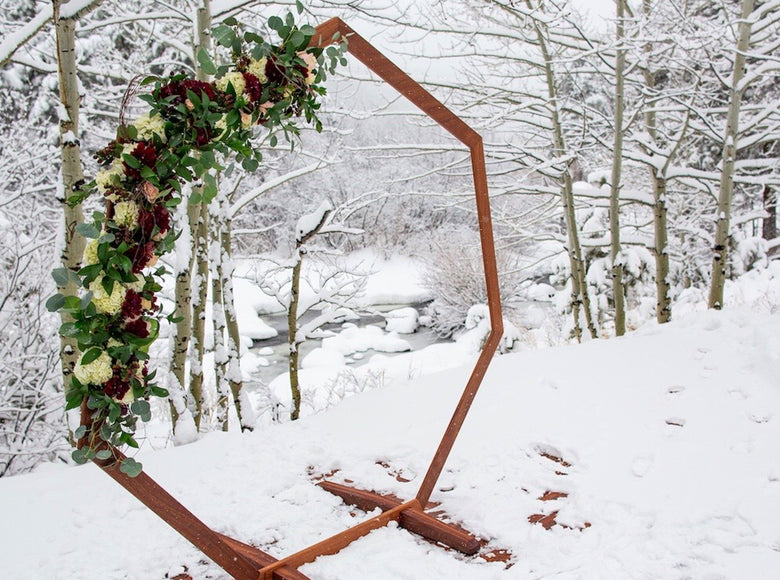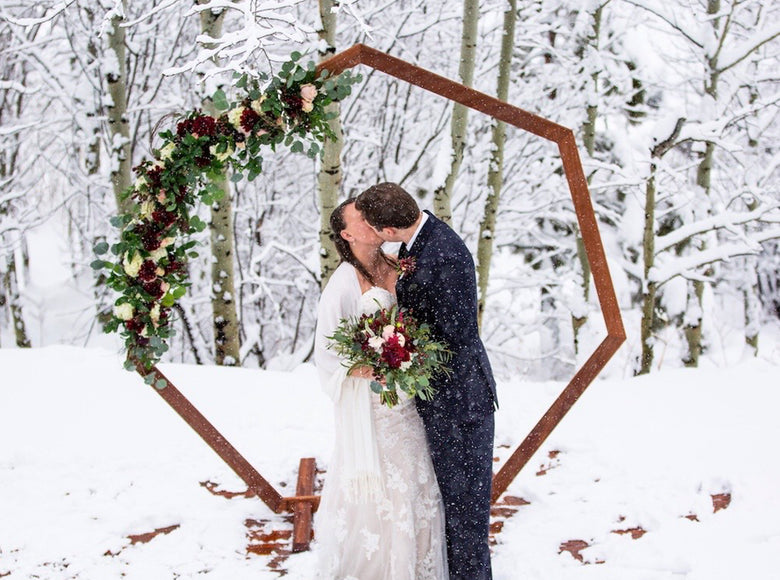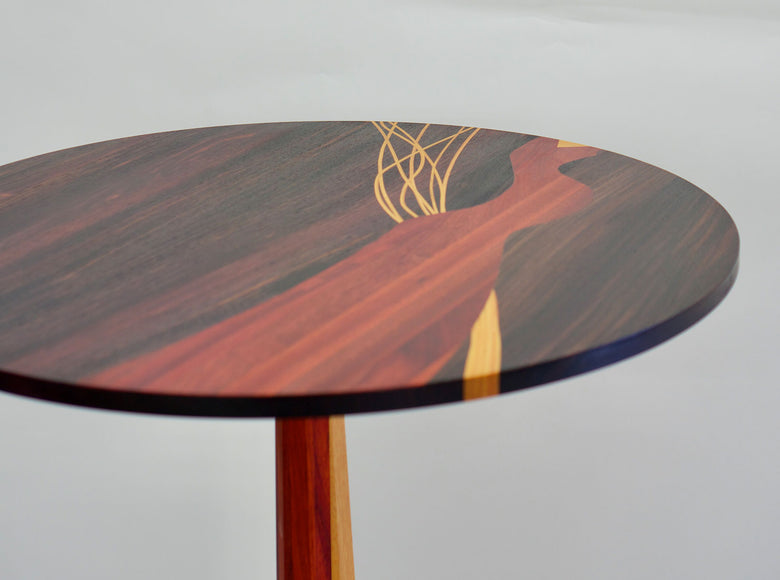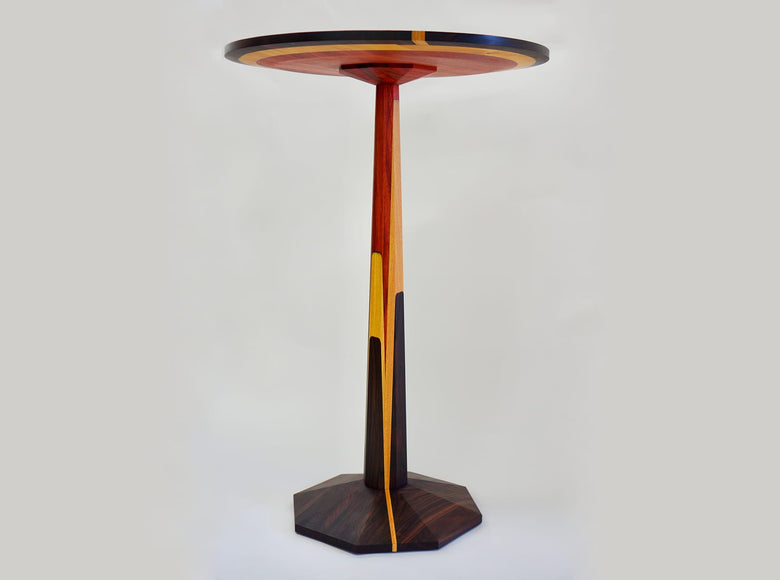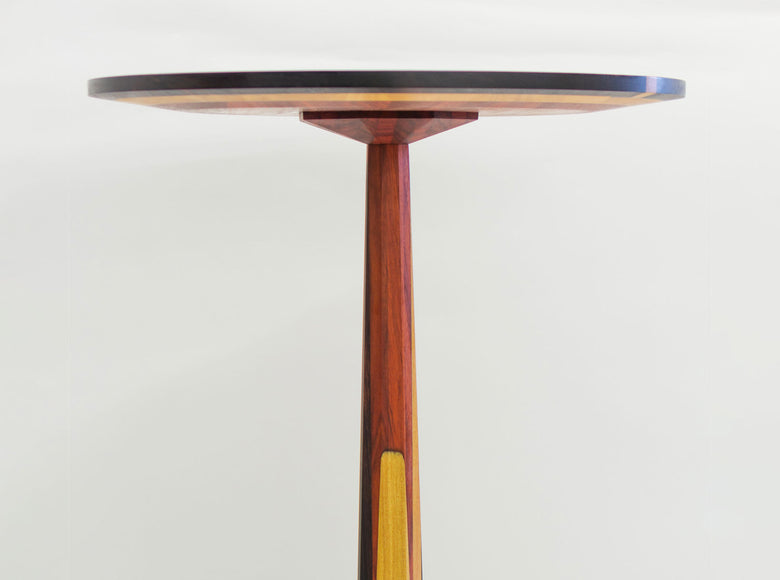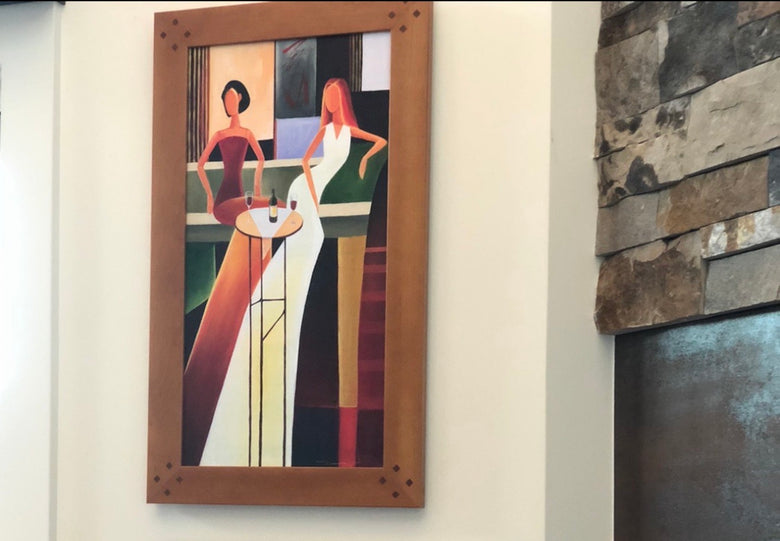 Pub Table
We collaborated with our Boulder friends at Design Studio Interior Solutions to create one of our most elaborate designs to date. The ask was a pub table that would compliment a pair paintings. Built with a combination of East Indian Rosewood, Padauk, Osage Orange and Bloodwood, we built this piece with no hardware—just solid hand-carved joinery.
Engagement Box
I made this ring box for my wife when I proposed. Built out of Ebony and Mahogany, the inlaid lid shows off the logo of the ring's designer (Everett) which also happened to by my wife's maid-of-honor. When I finally got to propose I couldn't tell if her amazement came from the box or the ring, but I have my suspicions…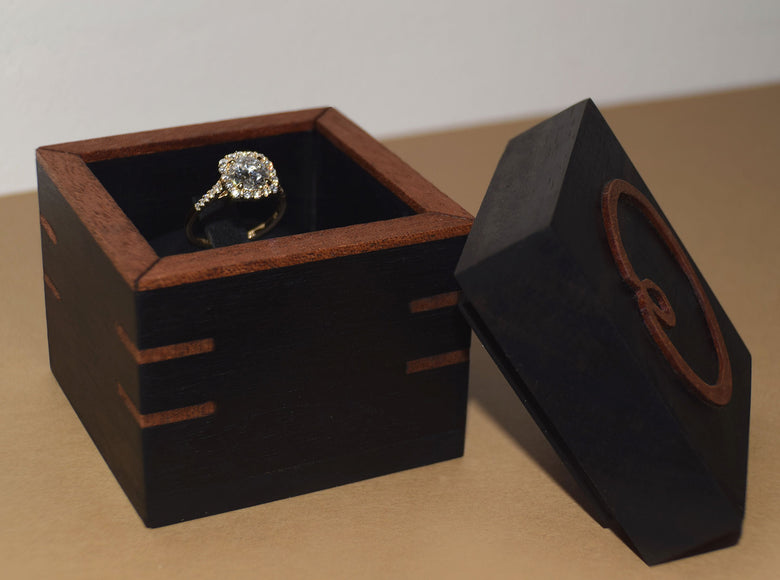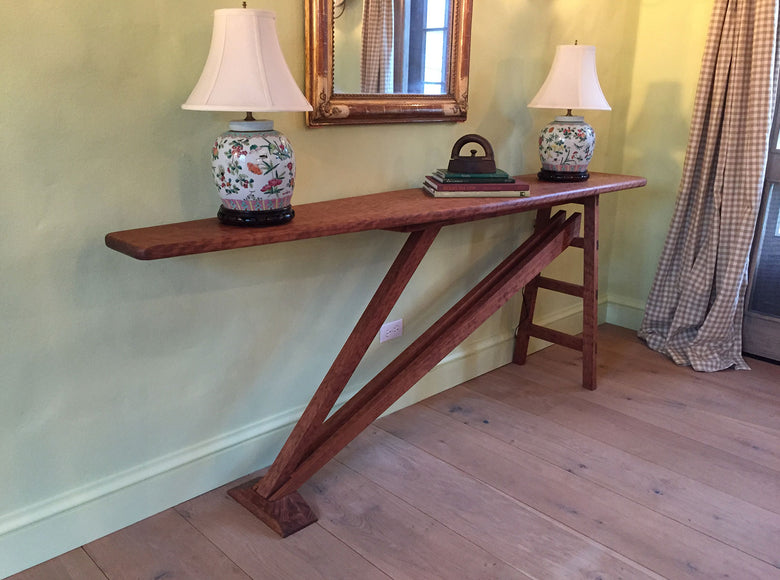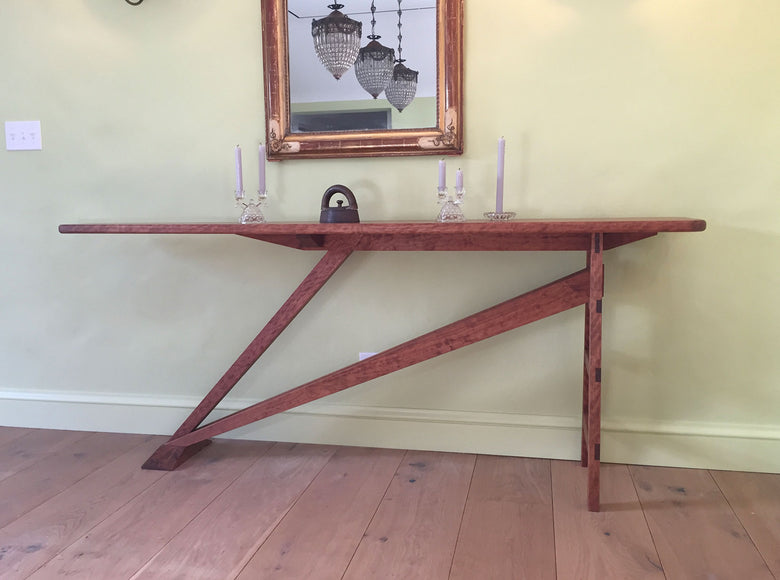 Ironing Board Table
An antique ironing board inspired this console table. We designed it as an accent piece for a dining room in Bermuda. The extreme change in climate was heavily considered in the engineering of the table, and it was constructed out of Curly Cherry wood.
Lester Dining Table
This client chose to fully customize the Lester dining table. It's made of American White Oak, with Marblewood accents.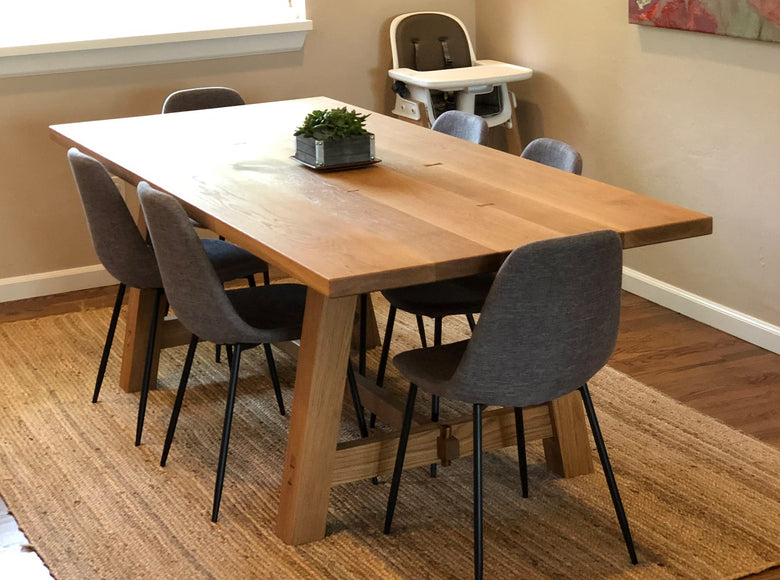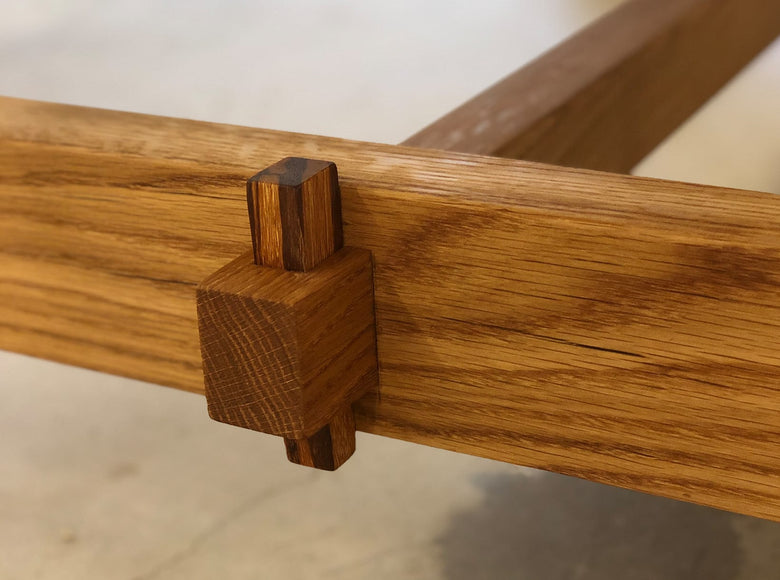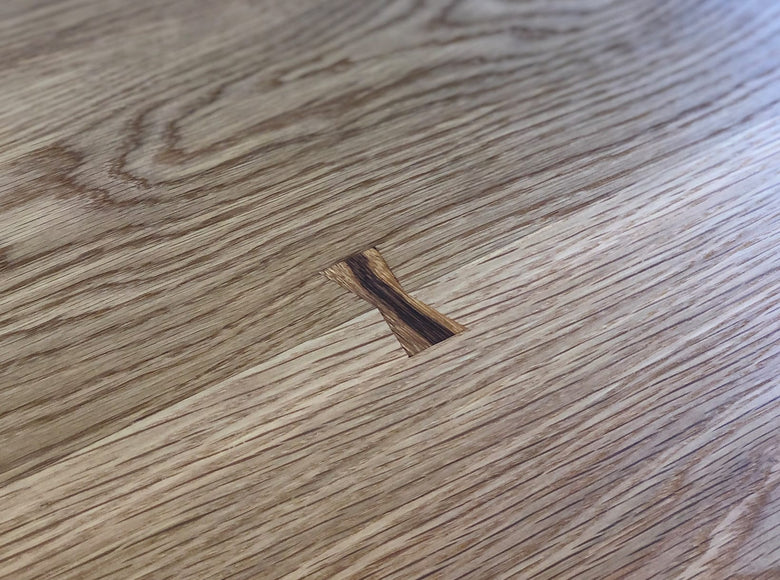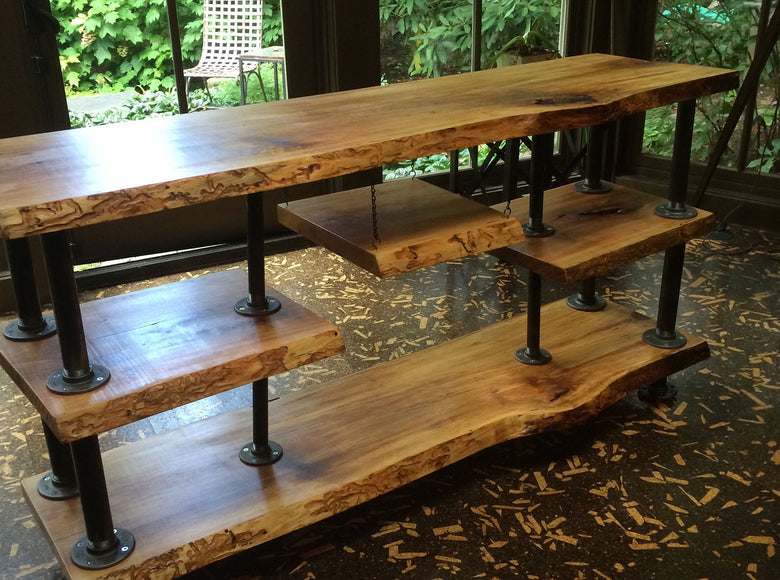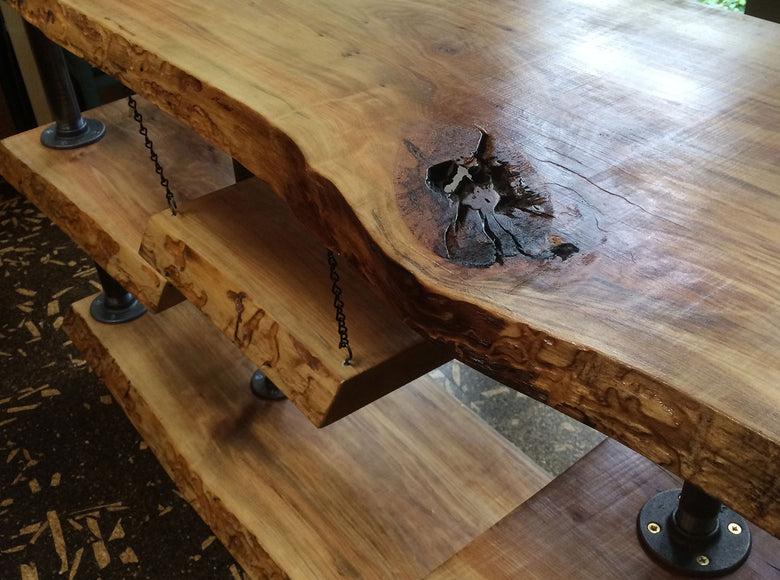 Live Edge Console Table
This piece is made of sugar maple and iron piping. The knots in the wood add a unique rustic detail, and the chain hung shelf sets this piece apart from the popular DIY style.
Ebert Dining Table
We collaborated with our friends at DS Interior Solutions — the client inspired the design, and we mixed a custom finish to match the dining room's color palette.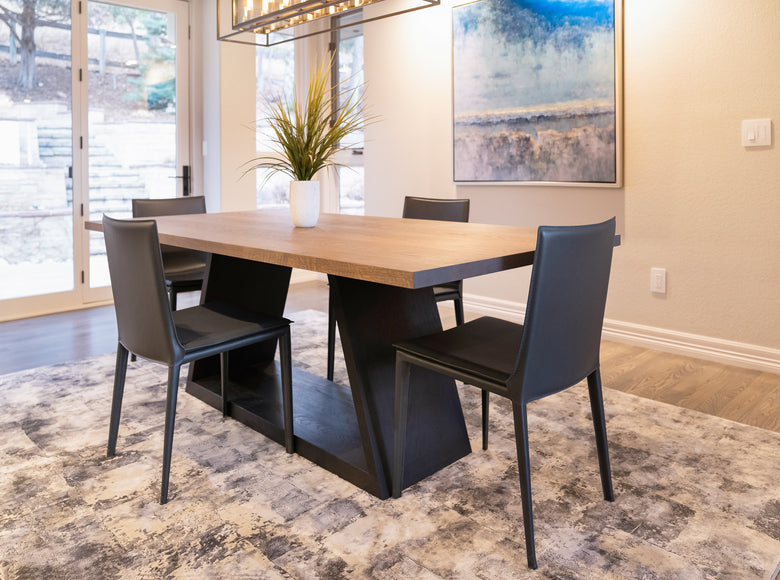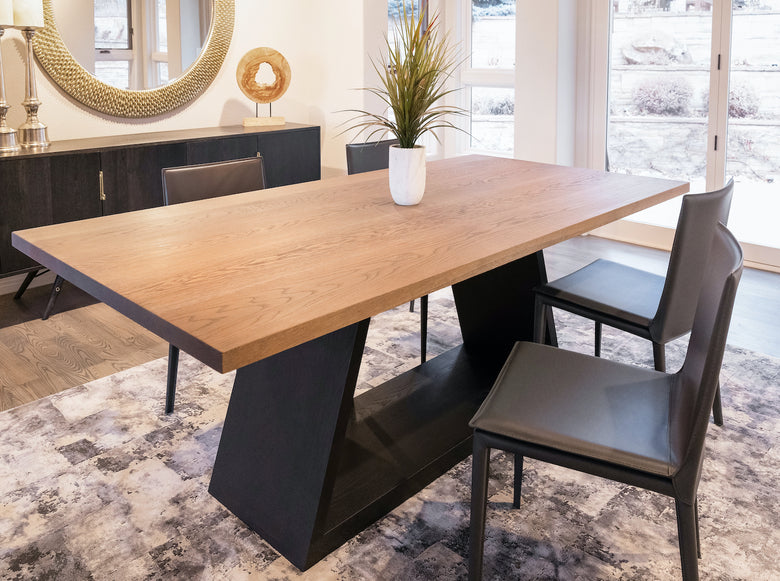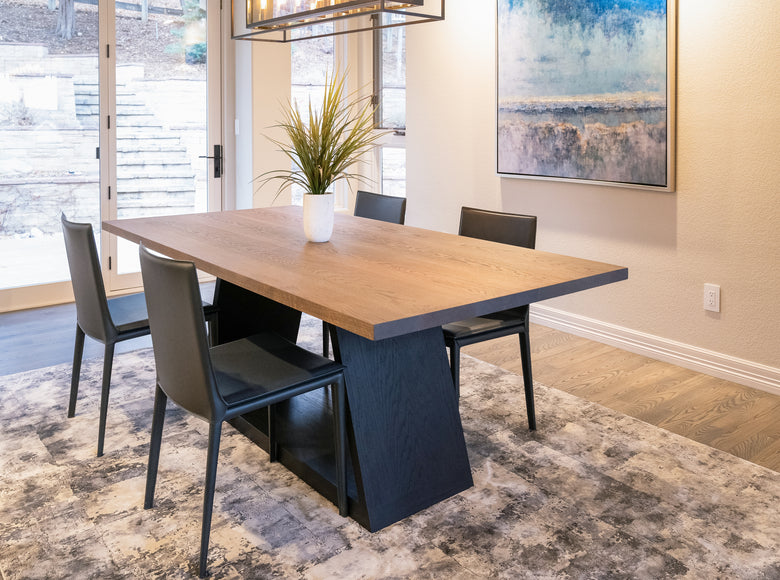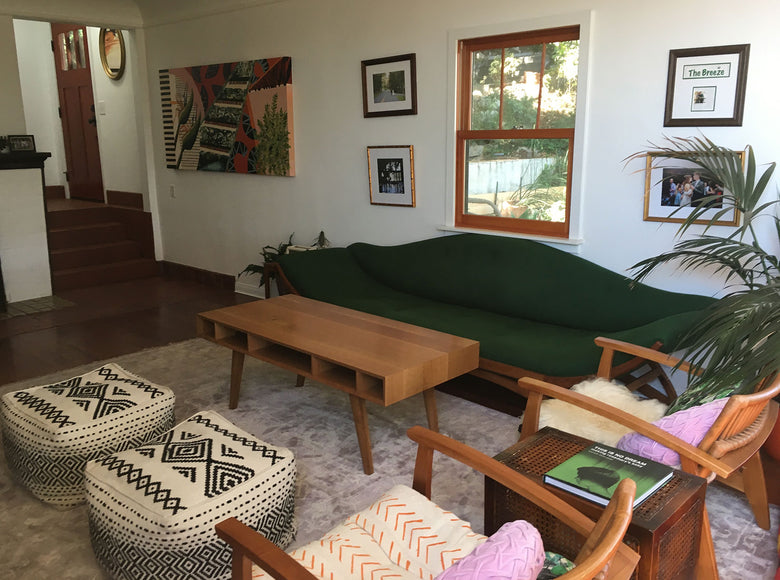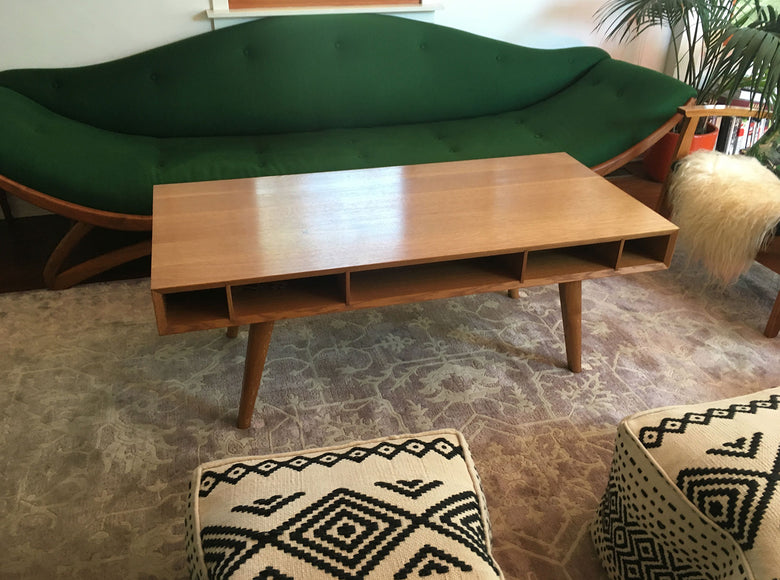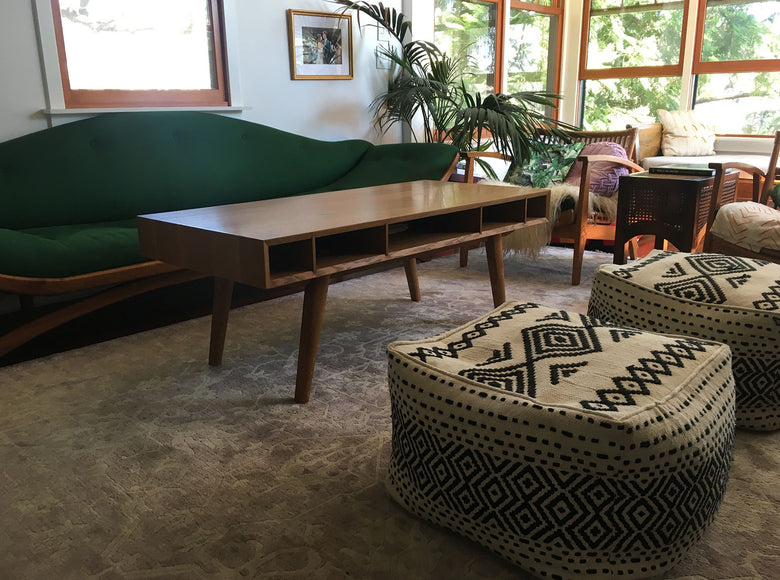 Mid Century Modern Coffee Table
This coffee table is made out of solid white oak and stained to reflect more traditional Midcentury Modern colors with a teak appearance. It features waterfall edges that show the grain wrapping around the top.
Sculpture Stand
This Pauduke and Walnut sculpture stand was made for local sculptor and artist Beau Sivy. The bent lamination back hugs each of the miniature brass molded heads.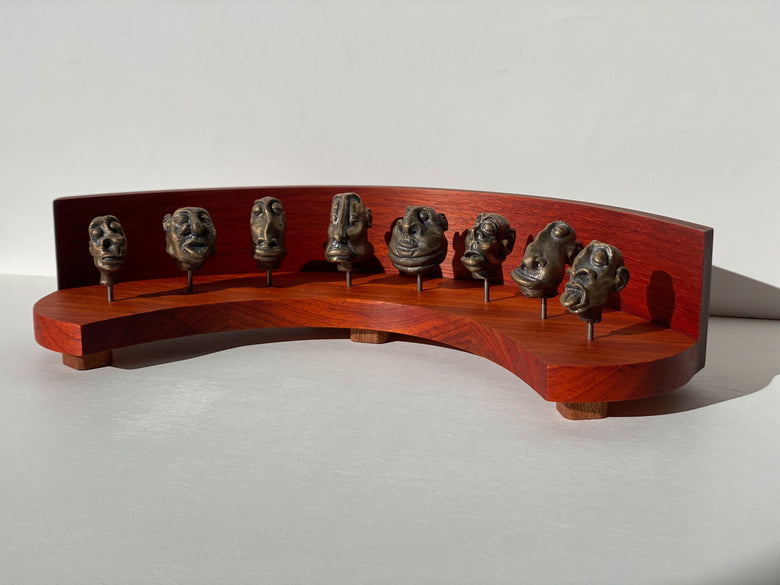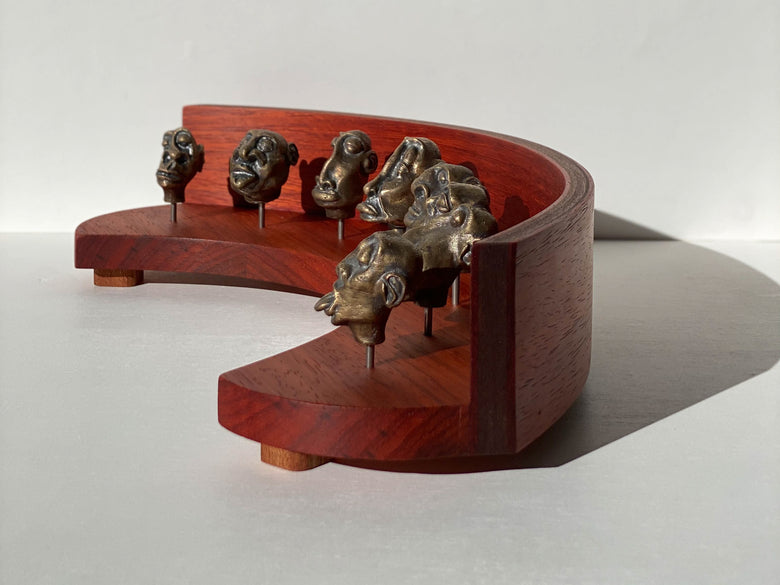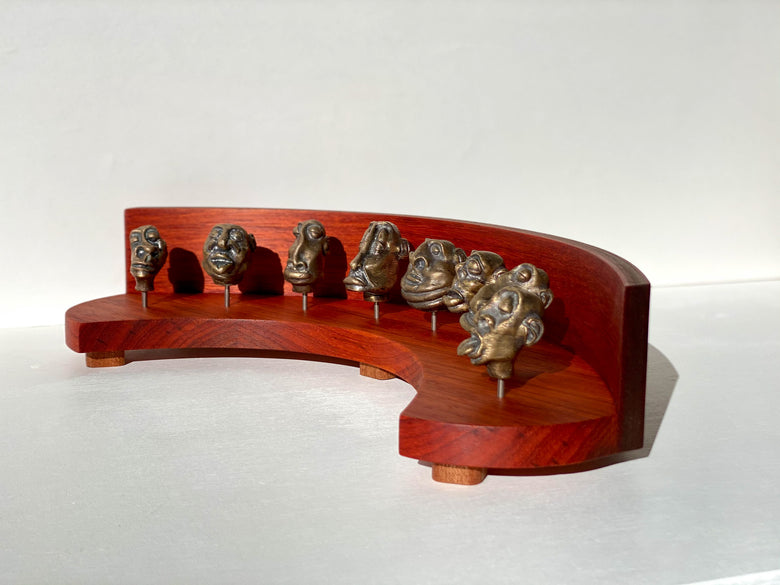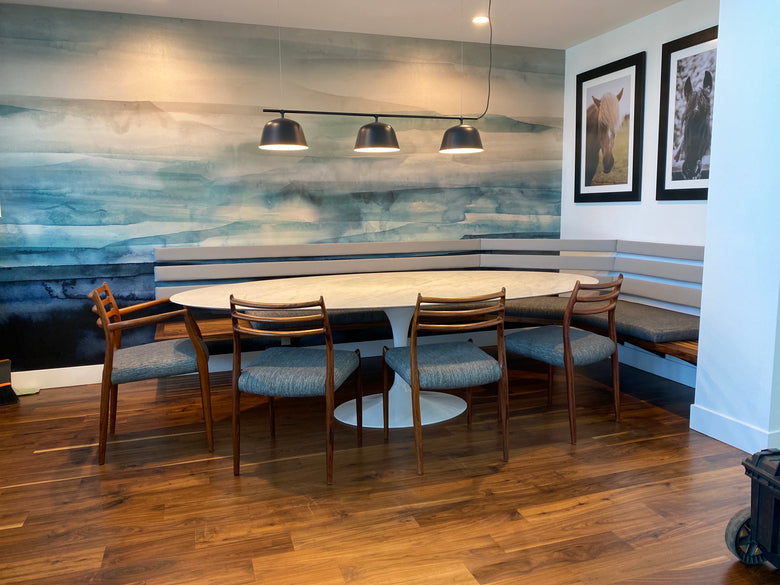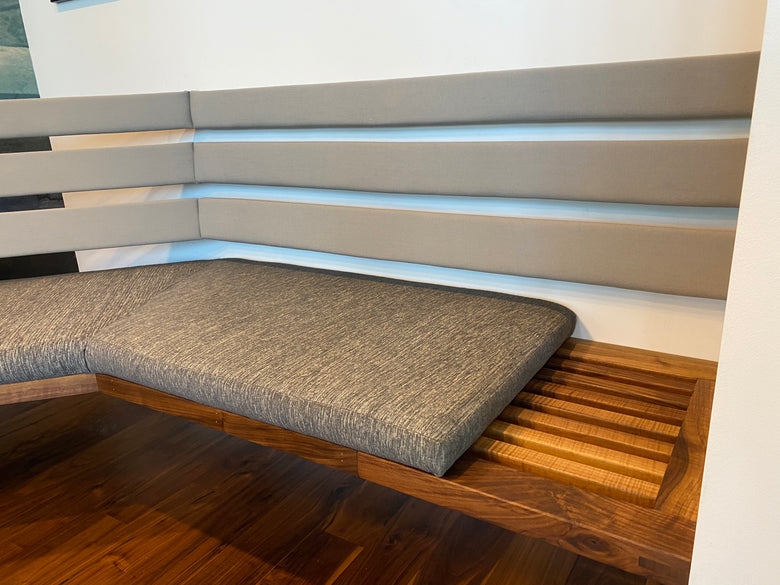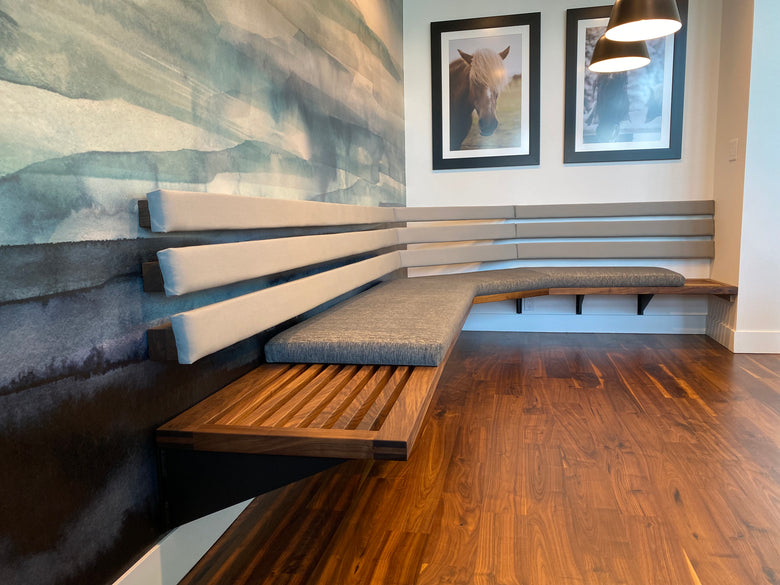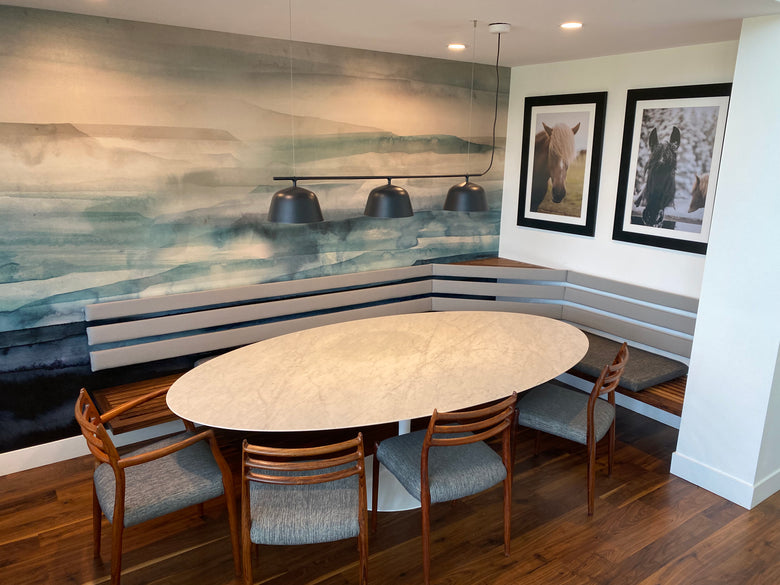 Built-in Banquette
This piece was tailor-made to fit perfectly in the corner of the owner's kitchen. We used walnut slats for a mid-century modern aesthetic. We even measured the owners height, leg length, and thigh depth so that when they sit down to eat, they feel perfectly molded into their bench. 
Patio Dining Set
Built with Grade A premium teak, this set was made to last a lifetime - even with salty air and direct sunlight. Not a single screw was used - both benches and the table are held together with traditional joinery and dowels.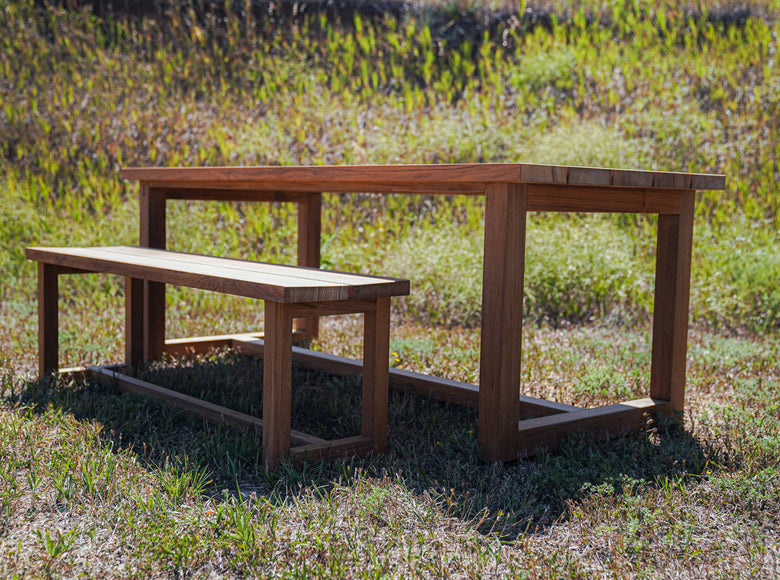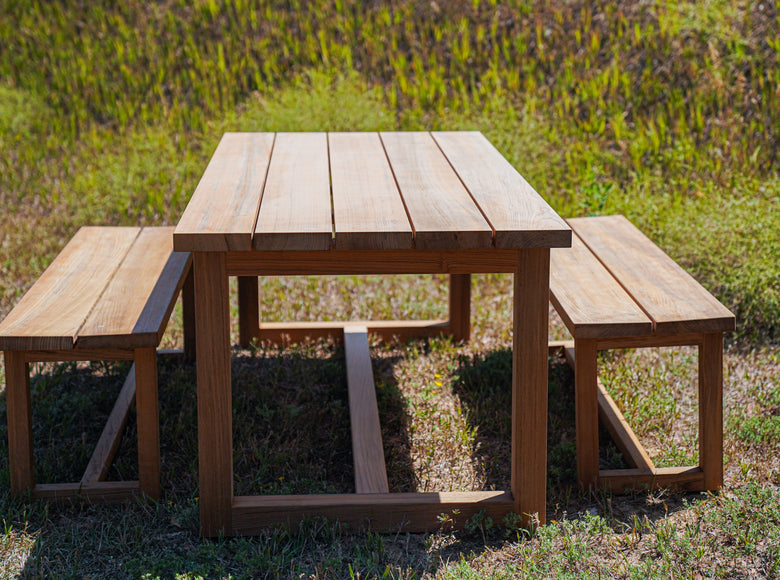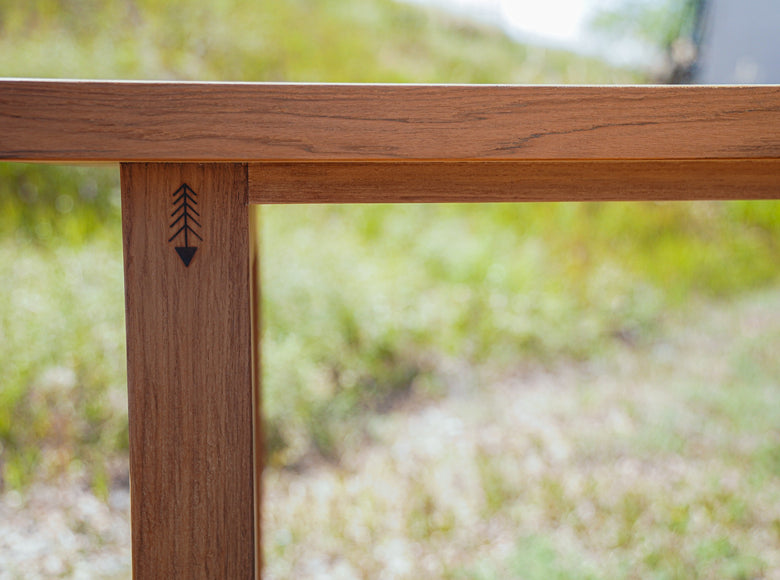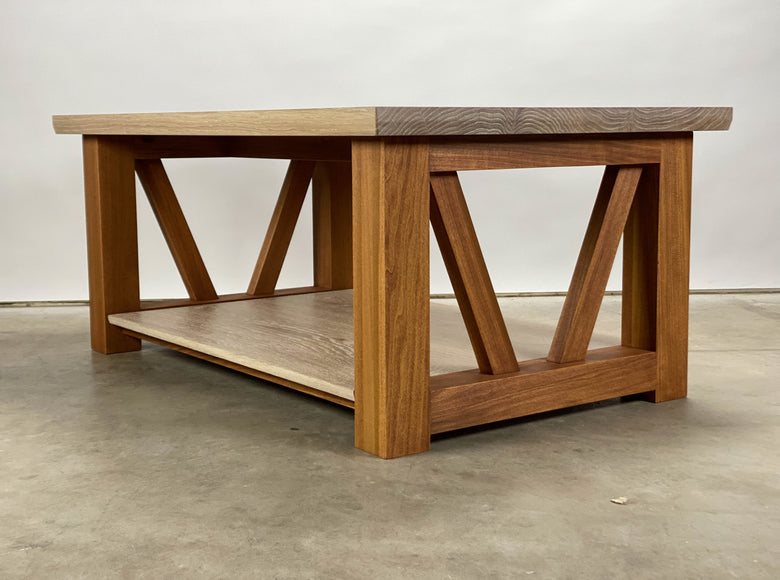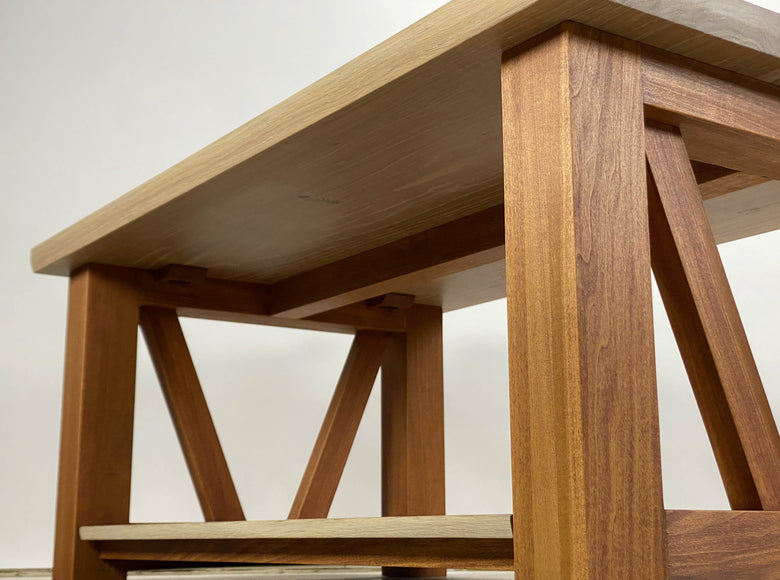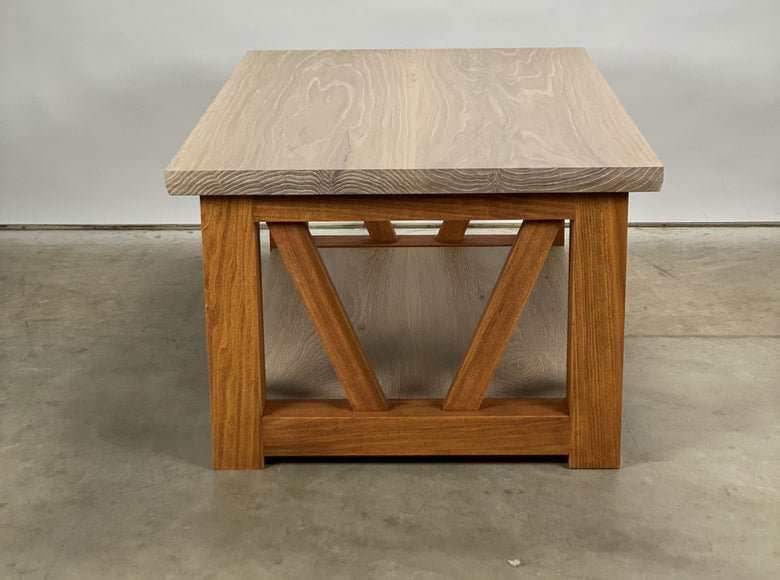 Two-Tone Coffee Table
We put a custom finish on the Les No. 2 to match the clients small Steinway piano in her living room. 
Donovan Pavilion Table
Our friends at D.S. Interior Solutions commissioned us to make this white oak table for the city of Vail. It now lives in the entryway of the Donovan Pavilion, perfect for wedding presents or flowers as you enter the grand hall.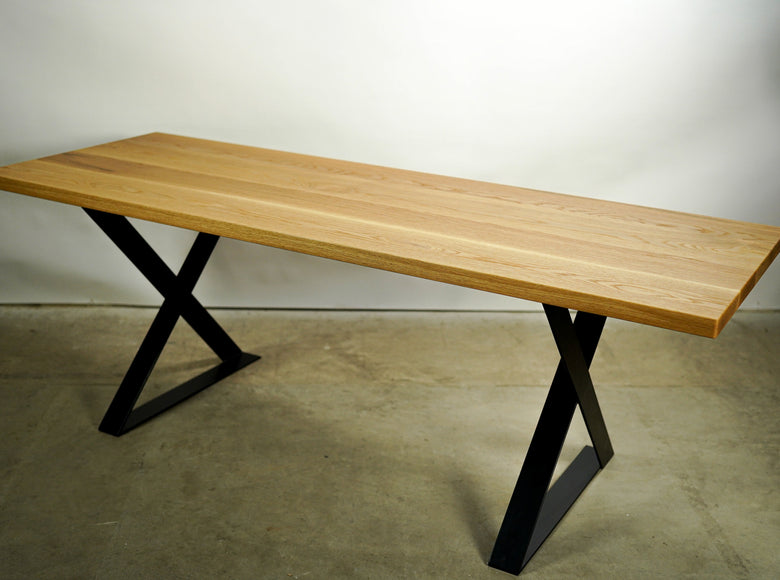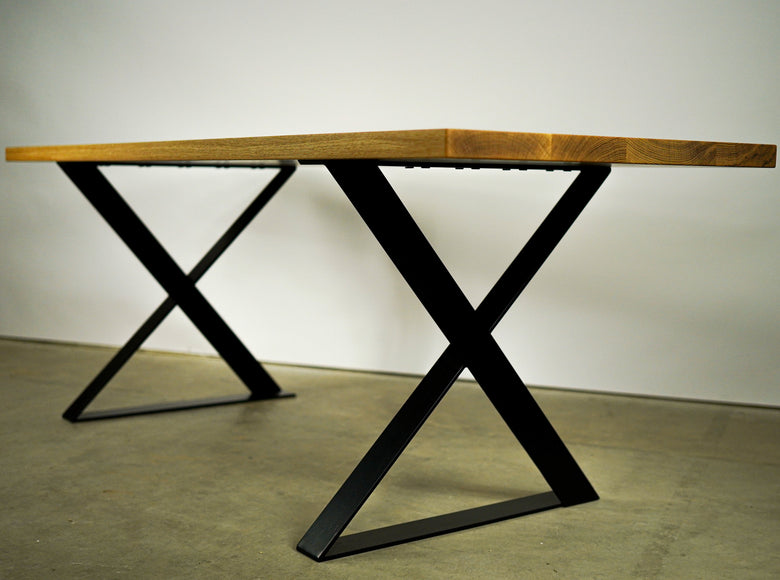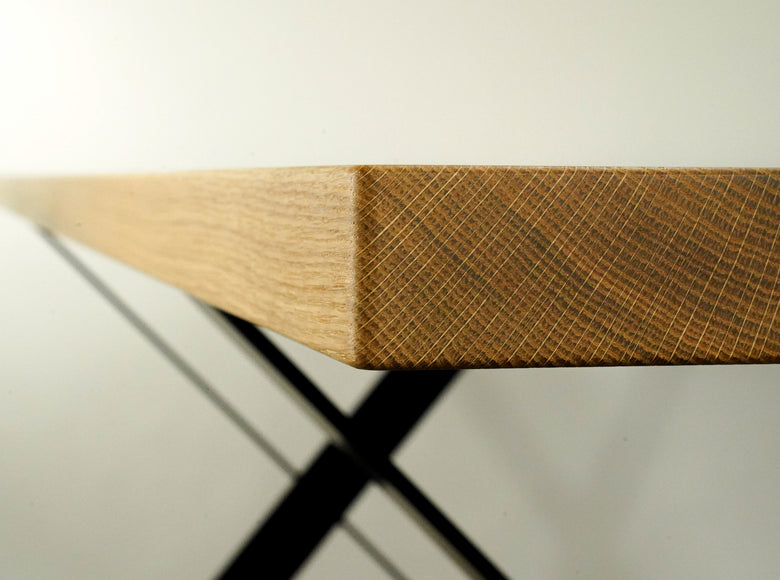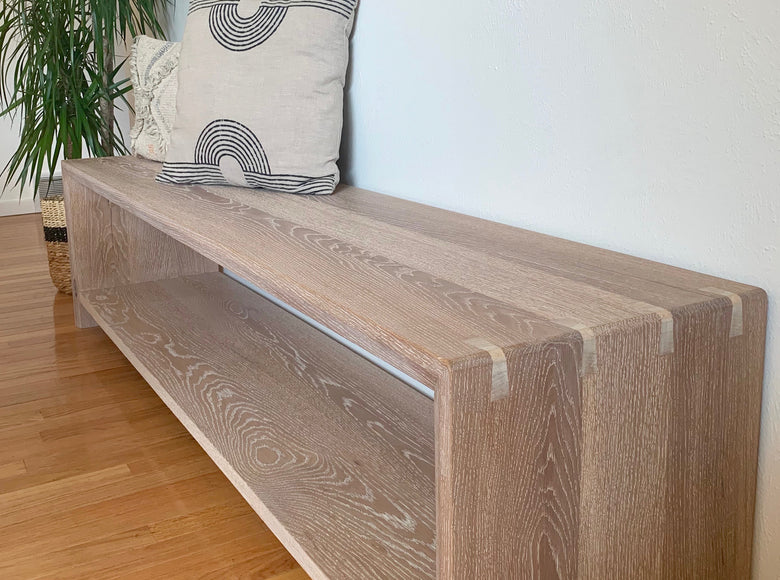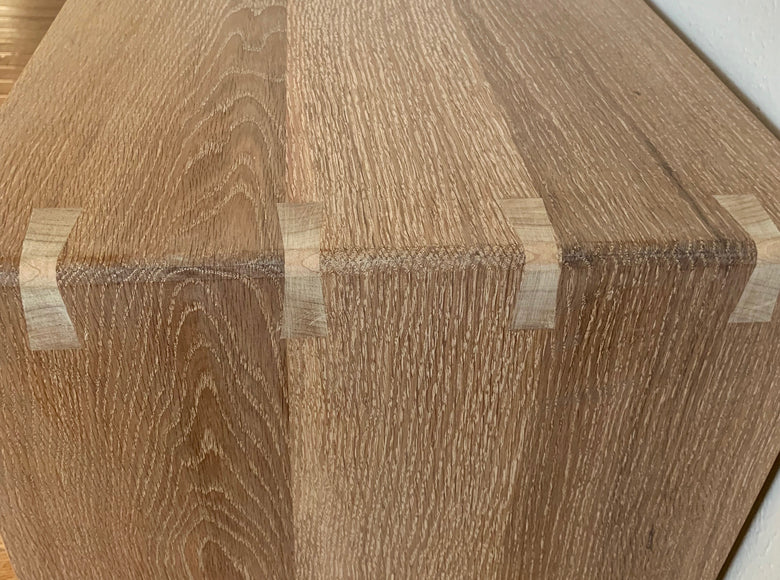 Entryway Bench
Our classic Barry bench is made with white oak and unique birch dovetail keys on the corners. It's sealed tight to keep out water and dirt, and is ready to hold the whole family's boots - no matter how muddy they are.
Butcher-block Countertop
This unique kitchen centerpiece is made of walnut and features waterfall edges on two sides. It took several measurements and a lot of math to keep the grain consistent and appear as if it's folding over the edge of the counter. It's not only a work of art, but it's durable to withstand all the wear and tear of knives, spills and crumbs.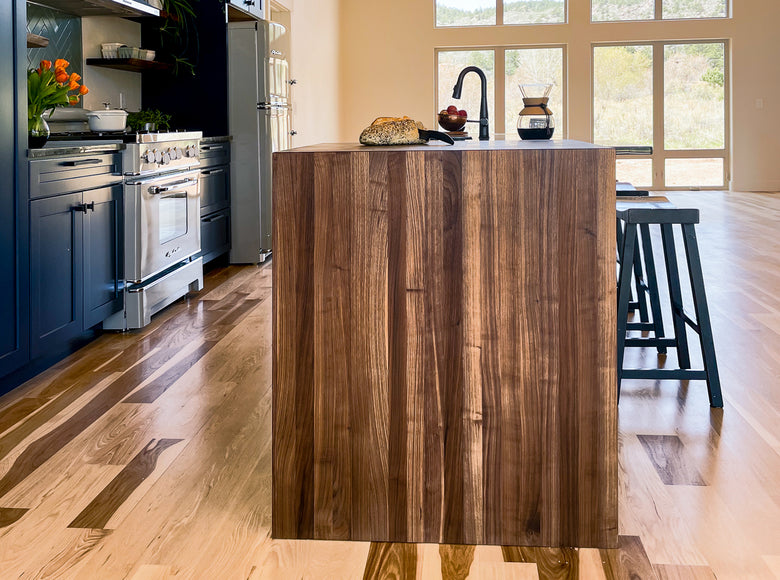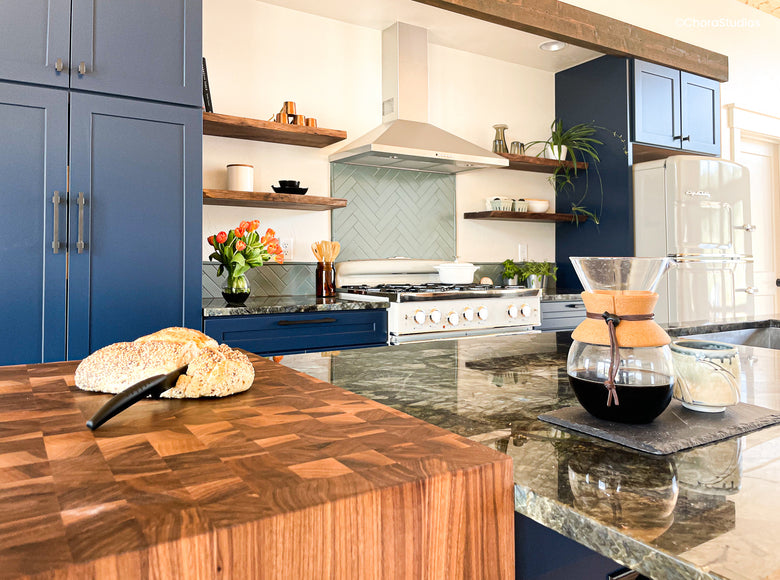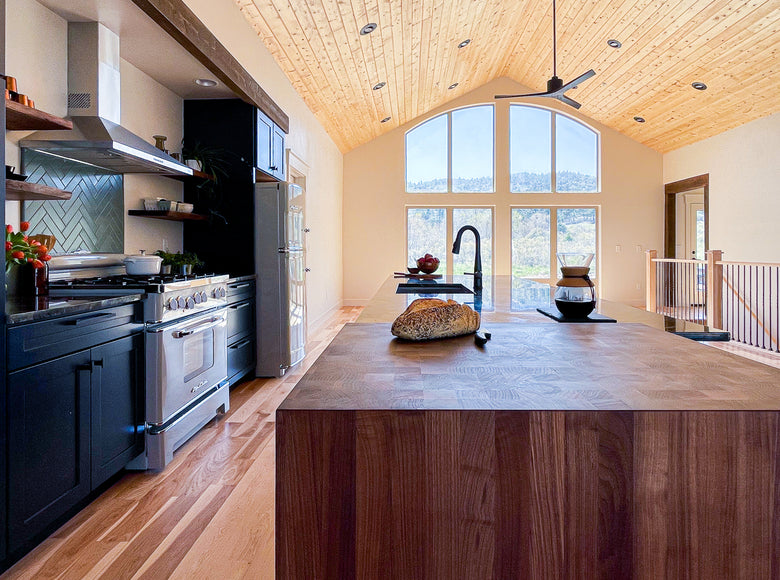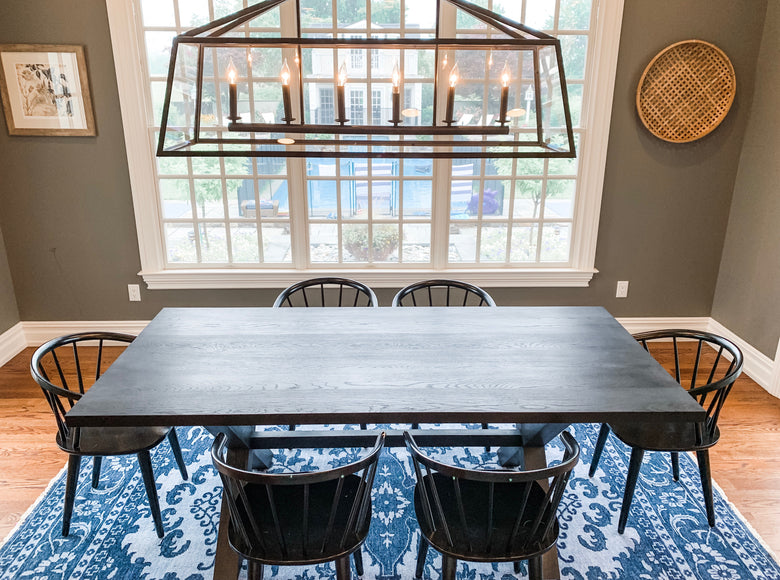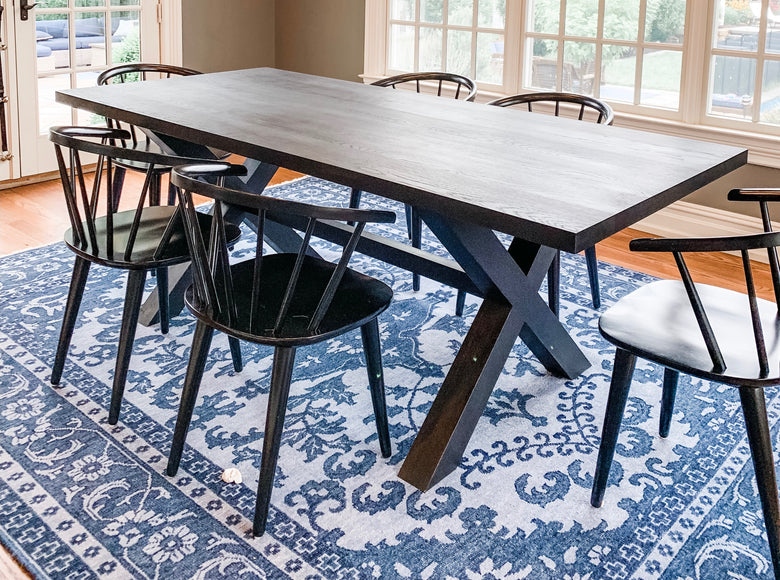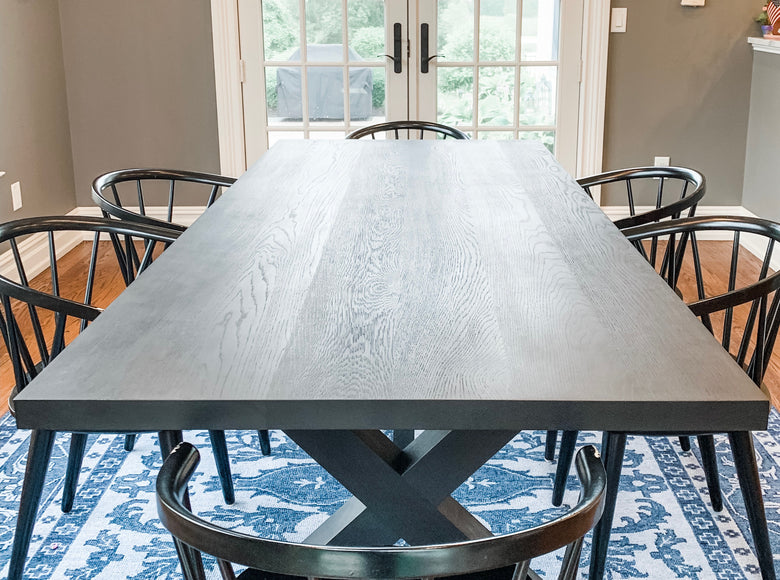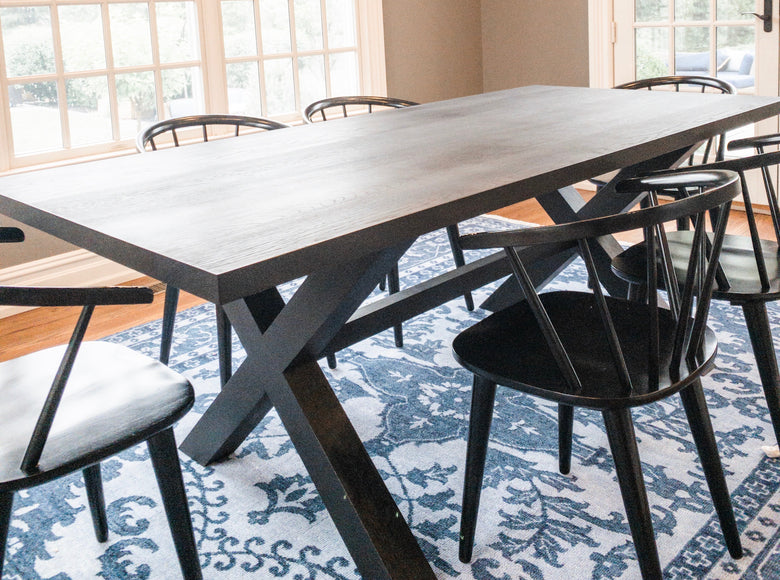 Table Number One
When Rooted opened its doors in 2019, this was the very first table we sold. It's our classic Jackson design with a coal stain to perfectly contrast the home's decor. It's already a hosted many family dinners (and spills) - and still looks brand new.
Walnut River Table
We poured a unique epoxy in the center of this console table - much like a river. And to keep with the theme, we designed waterfall edges so that the river looks like it's running over the corner.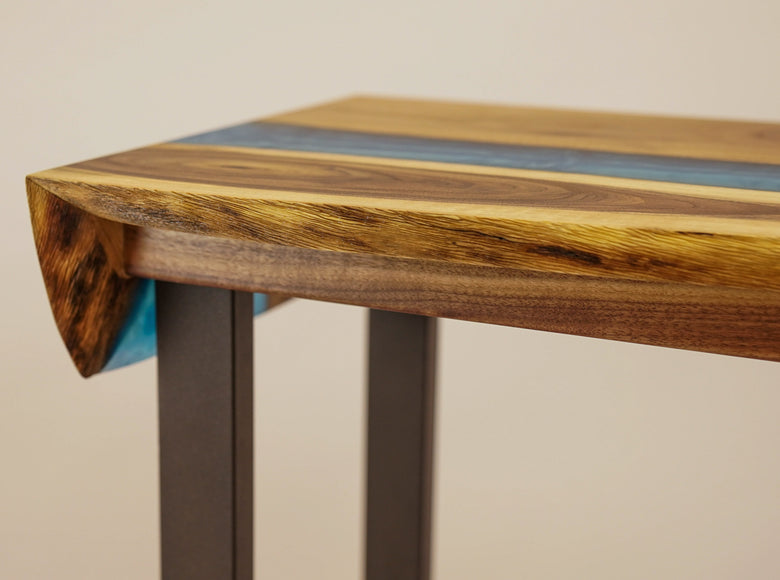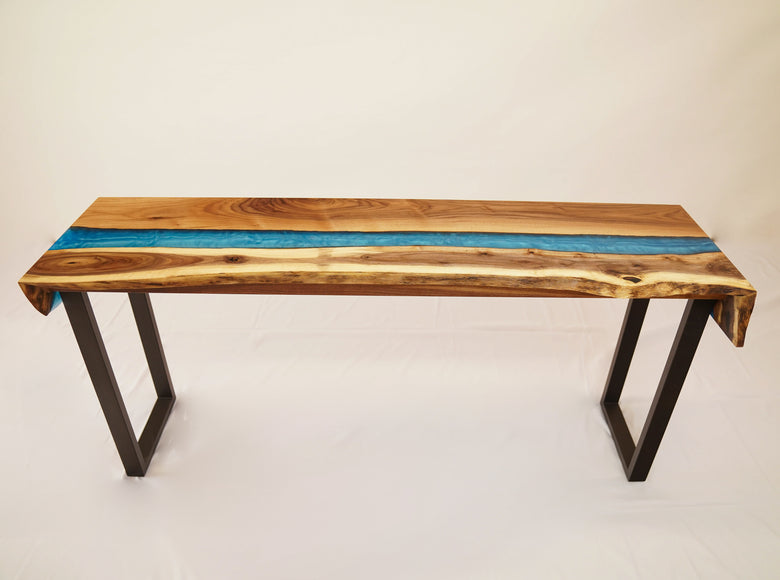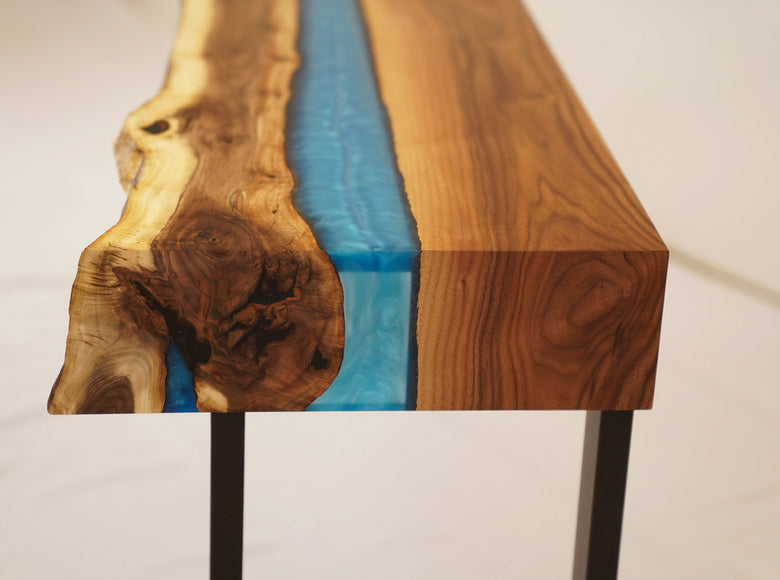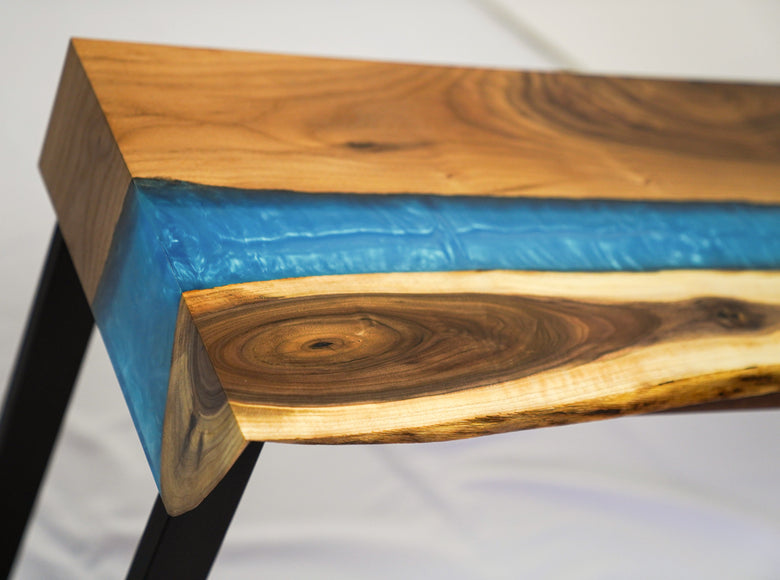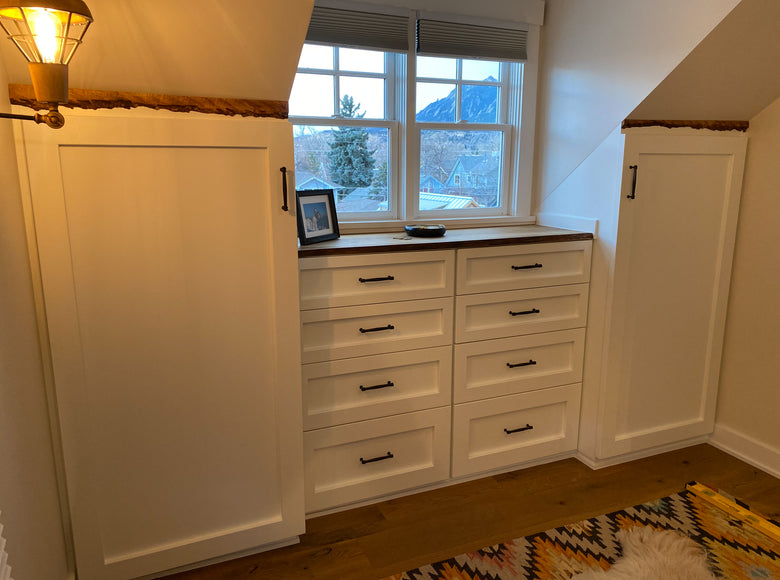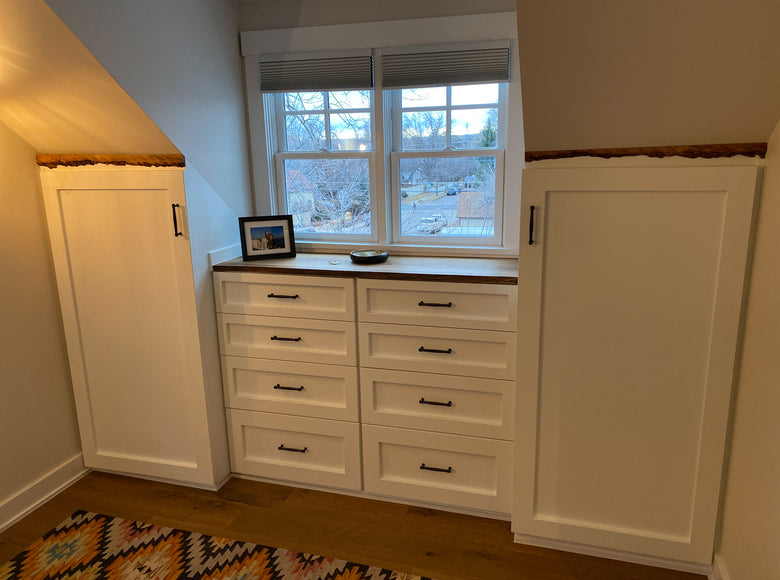 Built-in Closet Dresser
Our client wanted to maximize a storage space in a small bedroom. We worked with the existing low, vaulted ceilings and made custom, built-in cabinets and drawers to create space without taking away any square footage.
Cerused Jackson Dining Table
Commissioned for a vacation home in Bermuda, our traditional Jackson design takes new life with a wire-brushed, white-wash finish and a custom 10 foot long top.